Becoming a Young Democrat is easy! Membership is open to Democrats living or attending school in North Carolina who are aged 16 to 35 either through a chartered chapter or at-large. Find out more below about all the great ways to become an official Young Democrat.
Get involved with Young Democrats right in your own county!
Take the important first step toward organizing Young Democrats in your county!
If your county isn't chartered, you can still participate at-large!
Why join Young Democrats?
Being a member of Young Democrats has many benefits! Our organization has a long history of helping young people connect and network across the state to create change in their communities — Young Democrats find lifelong friendships, professional opportunities, and much more as part of our organization.
We're passionate about connecting our members with campaigns as well as helping support them in running their own! Many of our members have gone on to have illustrious careers in politics and numerous other fields after getting their start right here. Alumni include many of our most impactful Democratic governors such as Terry Sanford, Jim Hunt, and Roy Cooper, as well as members of the Council of State like Secretary of State Elaine Marshall and former Commissioner of Insurance and NC Democratic Party Chair Wayne Goodwin.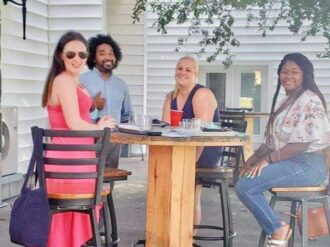 Young Dems in Catawba County1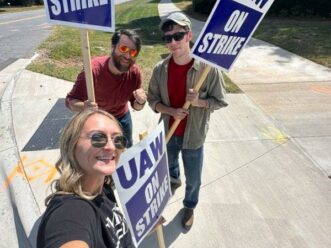 Young Dems support striking auto workers!
Young Democrats of North Carolina is also proud to support the professional development of our membership — our regional conferences and state conventions dedicate significant amounts of time to offering trainings regarding many aspects of politics to help ensure that our members are ready to organize in their communities and across the state for the betterment of our world. We also frequently organize roundtables, town halls, and panel discussions to connect our members with public officials and notable Democrats in their communities.
Being a Young Democrat is tons of fun! Getting involved is a great way to meet like-minded individuals in your county and across the state and forge lasting friendships. Chapters regularly host social events, everything from political trivia nights and debate watch parties to going to baseball games or movies together. So whether you're hoping to meet friends, organize your community, change the world, or all three — Young Democrats has a place for you!
Get involved with your local Young Democrats.
YDNC has chapters across four regional jurisdictions in North Carolina. Our goal is to have all one hundred of North Carolina's counties represented with a YDNC chapter.
Can't find a local chapter?
Fill out our interest form and we will put you in contact with your region's director or local chapter president. Also check our chapter directory.
Your county not chartered?
If you want to get involved but your county isn't chartered, we'll help you start your own chapter!
To start a chapter, you'll need five people who are registered Democrats and are at or between the ages of 16 and 35.
Don't worry, we'll help you every step of the way.
Fill out the interest form to get in contact with your region's director.

Get five friends together!
Take the important first step in your community!
Make sure your county is represented statewide.
While we're passionate about getting counties chartered, we know not everyone can meet the requirements to get their community organized.
You can still join at-large, meaning that you represent your county to YDNC.
Thinking of joining at-large?
To join, you need to be:
at or between 16 and 35

a registered Democrat

in a county where no chapter is currently chartered

in a county where there are less than five at-large members